MTC05 Etched brass sail set for 1st rate vessels
Sufficient for one ship, a set of etched brass sails suitable for 1st  rate vessels.  £10.00
Set of etched brass sails sufficient for one ship and suitable for 1st  rate vessels.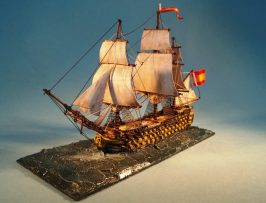 Meridian 1/700 scale Trafalgar ships, Spanish
Cast in white metal with ratlines etched in brass, this powerful ship of the  Spanish fleet was their flagship at Trafalgar.  Kit has assembly instructions and sail template.  Etched brass sails are available as an optional extra, see MTC05.
£

24.00